PLEASE NOTE: THERE WILL BE NO TECH CLASSES UNTIL THE FALL OF 2022!
THIS IS DUE TO THE QUESTION POOL BEING CHANGED AND NEW BOOKS BEING AVAILABLE JULY 1st.
Technician Ham Radio Classes!
Also Upgrades to General and Extra
Ever thought about becoming an Amateur Radio Operator?
What is Amateur (Ham) Radio? It's a service and a hobby!
A service to your fellow neighbors and countrymen during times of disaster, and a hobby for you!
Want to have communications in times of disaster when ALL else fails?
Want to have the fun of talking with others like yourself around the world, free?
Want to talk with the International Space Station orbiting around the world?
Want to bounce your signal off of the moon back to earth and make contact with others doing the same thing?
Want to have great local communications?
Want to learn basic and communications electronics?
It's never too late! Become an Amateur Radio Operator!
Just bought that cool ham two way radio? By FCC rule, you MUST obtain a license!
Please DO NOT TRANSMIT on the ham bands without one!
Getting your license is easy and we welcome new hams with open arms!
Classes are FREE but the test is typically $14.00 and

you must obtain only the Gordon West technician license manual, which is offered on line for $29.95.
This is the ONLY one we use!

Yeah the cost went up, due to materials cost, labor etc, basically INFLATION, thanks to the clowns in charge, oops did I say that out loud?
(the extra book is approx $34.00)
Contact us for further information about these books.

BE SURE IT IS THE CURRENT ONE! IT MUST HAVE THESE DATES:
Technician 2022-2026, General 2019-2023, Extra 2020-2024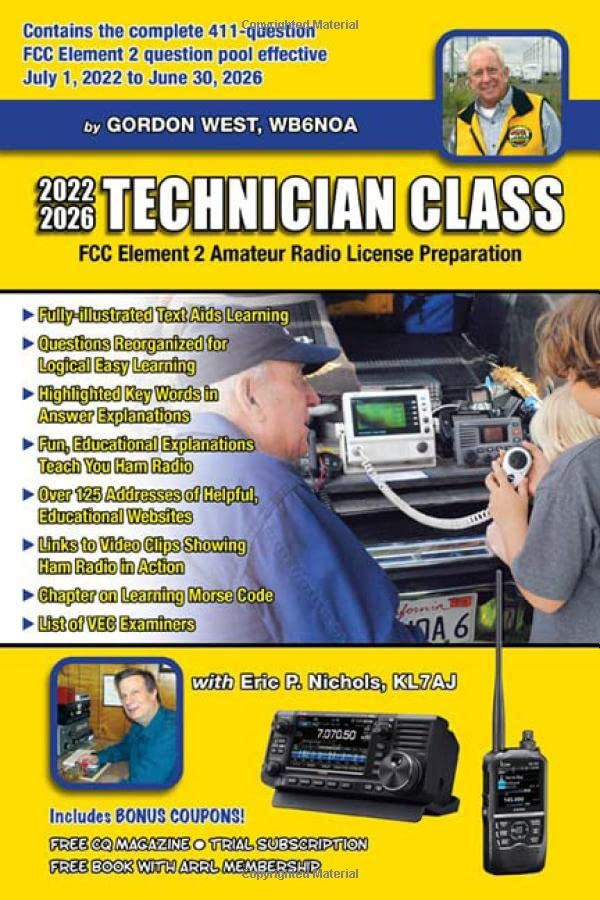 NOTE: THIS IS THE NEW TECH BOOK, CLASSES WILL BE OFFERED FOR THIS BOOK, THIS FALL!


It will available on line or contact us for further information.

This manual is always useful, even after you pass the test because it contains

a great amount of reference material that never goes out of date.
Classes are being taught by Tom Mattus WA9WSJ, Diane Tuderios KE7HHW & Ron Schinnerer KC7RS
We are also part of a Volunteer Examiner group, (VE's), with the W5YI team and can provide testing after your classes.

Due to our VEC retiring, sorry to see you stop Bill!, I have been requested and accepted,
to take over and am now a Volunteer Examiner Coordinator, VEC. WA9WSJ.
Classes are not on a regular schedule due to the fluctuating amount of student sign up
and are typically not held during summer months.
However, if you have a very interested group that wants a class, contact me and let's see what we can put together!
For further information email me at: wa9wsj@wa9wsj.com
Check back here as I'll be adding more info!
73...Tom WA9WSJ
----------------FREE CLASSES!!!----------------
PLEASE REMEMBER WE ONLY USE THE GORDON WEST BOOKS FOR CLASS,
AVAILABLE TYPICALLY ON LINE, or contact us for further information.

BE SURE TO GET THE CURRENT VERSION:

NOTE: THE TECHNICIAN CLASS QUESTION POOL WILL BE CHANGED BY JULY 1ST!
NEW BOOKS SHOULD BE AVAILABLE BY THEN, IT WILL BE THE 2022-2026 DATED VERSION

GENERAL 2019-2023
EXTRA 2020-2024
----------------Study Info----------------
For those who wish to study on line, here is a link to the question pools:
To practice the online testing, pick one of these links:
https://www.hamradiolicenseexam.com/try-it.htm
There are no doubt more, www.duckduckgo.com is your friend! (They don't track you!)
License Classes
There are three types of ham licenses and must be taken in the following order:
1. TECHNICIAN CLASS, to obtain this you must pass a 35 question test, (26 correct, 74%).
The test consists of questions pertaining to operating rules and regulations and a small amount of electronic theory.
After passing this test, you gain a certain amount of on the air operating privileges, as indicated in the license manual.
2. GENERAL CLASS, again there is a 35 question test, (26 correct, 74%), which involves more theory and rules.
After passing this test, you gain more operating privileges.
3. EXTRA CLASS, this is a 50 question test, (37 correct, 74%), and is the highest of all classes.
It gives you all possible ham radio operating privileges in the USA.


Testing Information
As mentioned we hold a testing session right after a class. We typically advertise when a
testing session is going to be held, on local VHF/UHF nets and the Idaho Amateur Radio Operators Group,
https://www.facebook.com/groups/105940889496438
on face book, (check it out!), so others wanting to test can join in.
If you need to test at other times, please feel free to contact us and we'll work with you to put a test session together!
Keep in mind that when we are holding a class, which is normally on Tuesday and Thursday evenings, 7 to 9 PM,
we can't test on those nights, (unless it's scheduled for the class).
In addition, any test session can accommodate any license class!
For further information email me at: wa9wsj@wa9wsj.com
Now is a great time to upgrade, we recently entered solar cycle 25 and the higher High Frequency bands are becoming more active!
You can do this!
73, Tom WA9WSJ